Have you noticed that some people who make Christmas Albums just shouldn't? Do you feel that way? Not because they are bad or "sound" bad--on the contrary, most Christmas Albums by famous singers sound pretty darn good. I mean, I couldn't sing that well! But for a small percentage, it just doesn't work. Lemme 'splain.
Listening to Sissel sing with the Mormon Tabernacle Choir is heavenly. It's literally like angels. Pure angels. But when I listen to Renee Flemming singing with the MoTab, it sounds like an opera singer singing Christmas music. *shrug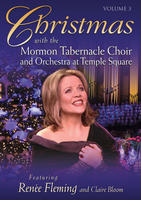 Listening to some of Andrea Bocelli's Christmas music, it sounds, again, heavenly. But Josh Groban's? It's so affected (and I'm saying this as a huge Josh Groban fan, so you know I'm not making this up) and doesn't have the same spirit about it.
Barbra Streisand and Christmas = fun, but not heavenly.
Amy Grant (who, arguably, is not nearly as good as Babs) = both
Why is this? It's about motive and personal testimony, I'm guessing. Also life experience. Personal feelings. Motivation. I'm a huge believer that most musicians can make fantastic and outstanding music, but what separates Christmas music (and other special kinds? maybe?) from the rest is a profound deep, and personal tie to what they are singing about. Especially when they are singing about Jesus Christ and not just snow.
Using my examples above:
Renee Flemming is a world-renowned opera singer and I've been told that she is quite the diva. Sissel, on the other hand, although met with equal success, is not a household name. She's also very humble (again, I've been told. By an insider who has met her). She sings from her heart with pure joy --and it sounds like it.
Andrea has been met with difficult personal tragedies in his life (losing his sight, losing his father, etc.) and I believe that can illicit amazing faith. Josh is young and fairly privileged --not to say he doesn't understand or sympathize or empathize with pain --and he's not super religious.
Barbra isn't Christian. Interesting that she made a Christmas album. Hmmm.
Amy Grant is a Christian. When she sings about Christ, you can feel her testimony.
Does that make sense? And just saying --Bryn Terfel is one of the most fantastic bass-baritones I've ever heard, but he definitely sings his Christmas music as if it's from his soul, too; it doesn't feel affected or too showy.
Anyway, what do you think? And I am talking about Christmas music. I mean, when Babs sings anything else, I love it. Same with Josh. Even Renee!